David Bendler
Faculty - Mathematics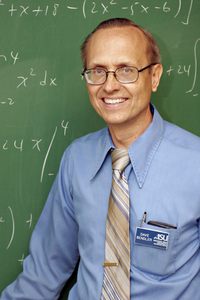 EDUCATION:
Bachelor of Science in electrical engineering from University of Michigan, Ann Arbor, MichiganMaster of Arts in urban teacher education from Governor's State University in Park Forest South, IllinoisMaster of Science in math education from University of Central Arkansas, Conway, Arkansas

FULL-TIME MATH INSTRUCTOR in the School of Arts and Sciences

David Bendler has 6.5 years of experience in the industry designing VHF, UHF, and microwave antennas as an electrical design engineer.

He went back to school in 1976 and received a master's degree and certification to teach math at the secondary level. He has one year of experience in the Chicago, Illinois, area, and 15 years of experience at Gainesville High School in Gainesville, Missouri, teaching math and later also chemistry and physics. Before leaving Gainesville, he began teaching as an adjunct math instructor at North Arkansas Community College in Mountain Home. Mike Huber (then co-director) encouraged David to get another master's degree with at least 18 hours in math because the time was coming for hiring full-time instructors. David was the second full-time math instructor hired for the Mountain Home Technical College in 1992 (which later became ASUMH). Currently, he has 28 years of experience at ASUMH and thoroughly enjoys working with his colleagues, administration, staff, and especially with the students.

His wife says his retirement plan is to be carried out in a pine box – with a stick of chalk in his hand!

1600 South College St.
Mountain Home, AR 72653
1600 South College St.
Mountain Home, AR 72653
1600 South College St.
Mountain Home, AR 72653
1600 South College St.
Mountain Home, AR 72653
Alert
Mandatory Password Reset for All ASUMH Users

Passwords were reset for all ASUMH users at 7:25 pm, April 21, 2022. If you reset your password before this time, please reset it again, and then you should be able to access your email and portal information.

If you are unable to login on an ASUMH-issued laptop, use your phone or another computer and go to portal.asumh.edu to reset your password.

If you do not know your ASUMH ID, please call 870-508-6101 to verify that.

If you have any questions, please contact ASUMH IT at helpdesk@asumh.edu or call 870-508-6223. Please leave a voicemail, as they are likely helping other students and faculty. A voicemail will immediately notify the staff that you have issues you are unable to resolve.

Thank you for your patience during this time.

Still have questions?

A password reset server is available for you to change your password 24/7. Please use the following link to reset your password: https://webapps.asumh.edu/changepassword
If you are logged onto a campus computer, you can use CTRL-ALT-delete and then "Change a Password" to set a new password. If you still have trouble with the login, please call the ASU System Help Desk at (870) 701-0523.

Sign Up For Our Email List
Go To Top