Lorynda Tye receives $500 scholarship from ASUMH Alumni Association
JULY 15, 2021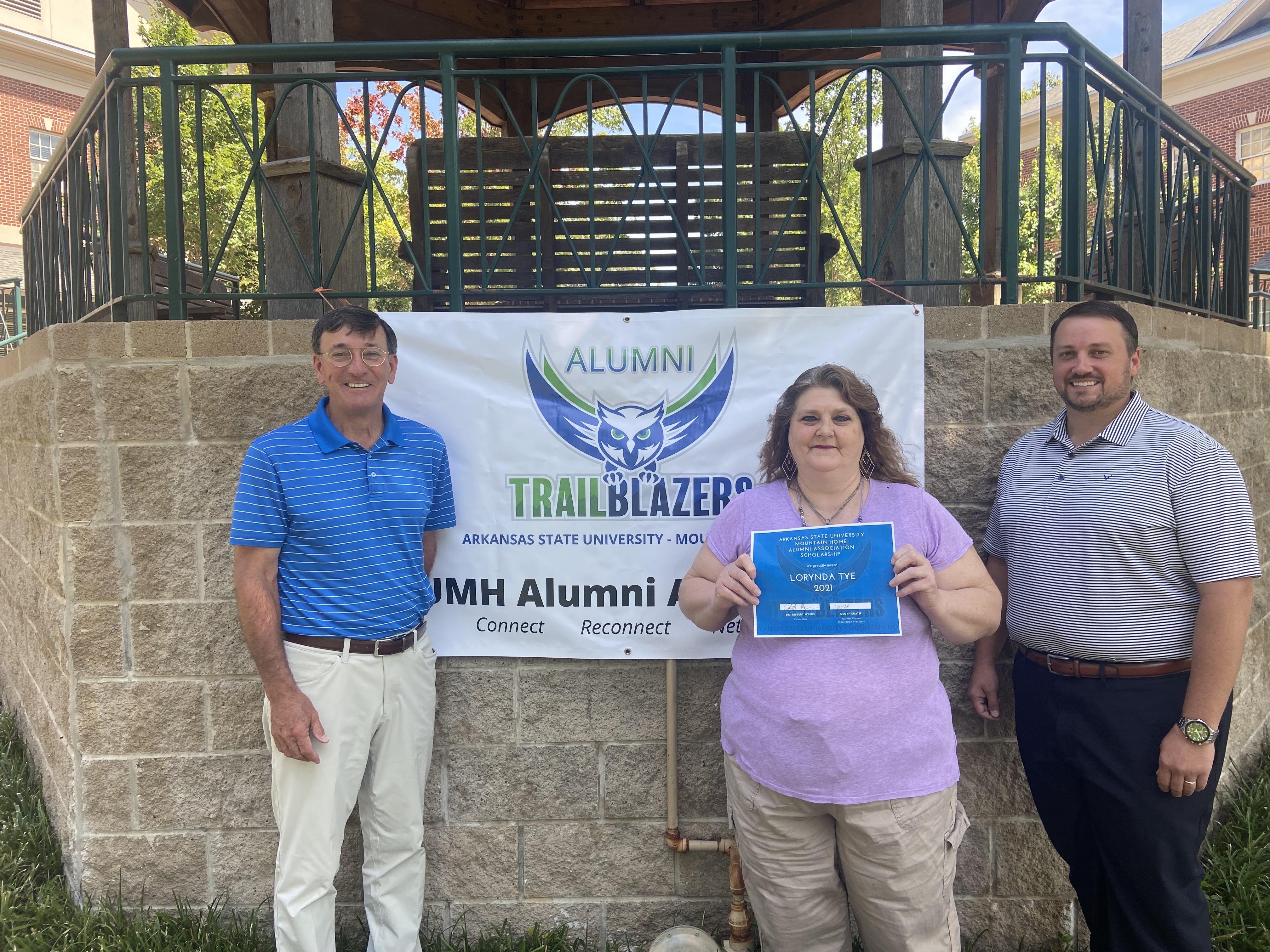 The Arkansas State University-Mountain Home (ASUMH) Alumni Association Board of Directors would like to announce the first recipient of the ASUMH Alumni Association Scholarship. Lorynda Tye received a $500.00 scholarship to be used for further education or for needs to help with future employment.
While taking a challenging course load, Lorynda battled breast cancer along with a broken ankle while obtaining her Associate's Degree. She plans on using her scholarship funds to continue her studies in Business and Finance at Arkansas State University.
The ASUMH Alumni Association (AAA) has recently reorganized in order to reconnect former graduates and students of ASUMH back to the campus. The AAA hopes to connect alumni to each other as well as to current students in order to create a strong professional network for our local workforce.
Those who join the Association will receive a personalized membership card listing sponsor discounts for each AAA member. Businesses participating include Cove Coffee, Bloom Babe Boutique, The Window Place, Restore, Car Care, and Testy Greens To Go. These businesses are owned by alumni or support our current students. Newsletters are sent to members highlighting members and informing members about new campus projects. The AAA Board of Directors hopes to create events honoring outstanding work and volunteerism performed by alumni and to create an exciting environment for alumni to connect.
To join the ASUMH Alumni Association, visit https://asumh.edu/alumni. Former graduates as well as friends of the university are encouraged to become a part of this organization. Proceeds from membership fees are used for scholarships and campus projects.
Businesses who would like to support the AAA through our discount program may contact the ASUMH Development Office.
For more information, contact Mollie Morgan, ASUMH Development Officer at (870) 508-6191 or mmorgan@asumh.edu.
Pictured are Dr. Robin Myers, ASUMH Chancellor, Lorynda Tye, scholarship recipient, and Geoff Smith, ASUMH Alumni Association President.