Vaccination Heroes
JULY 15, 2021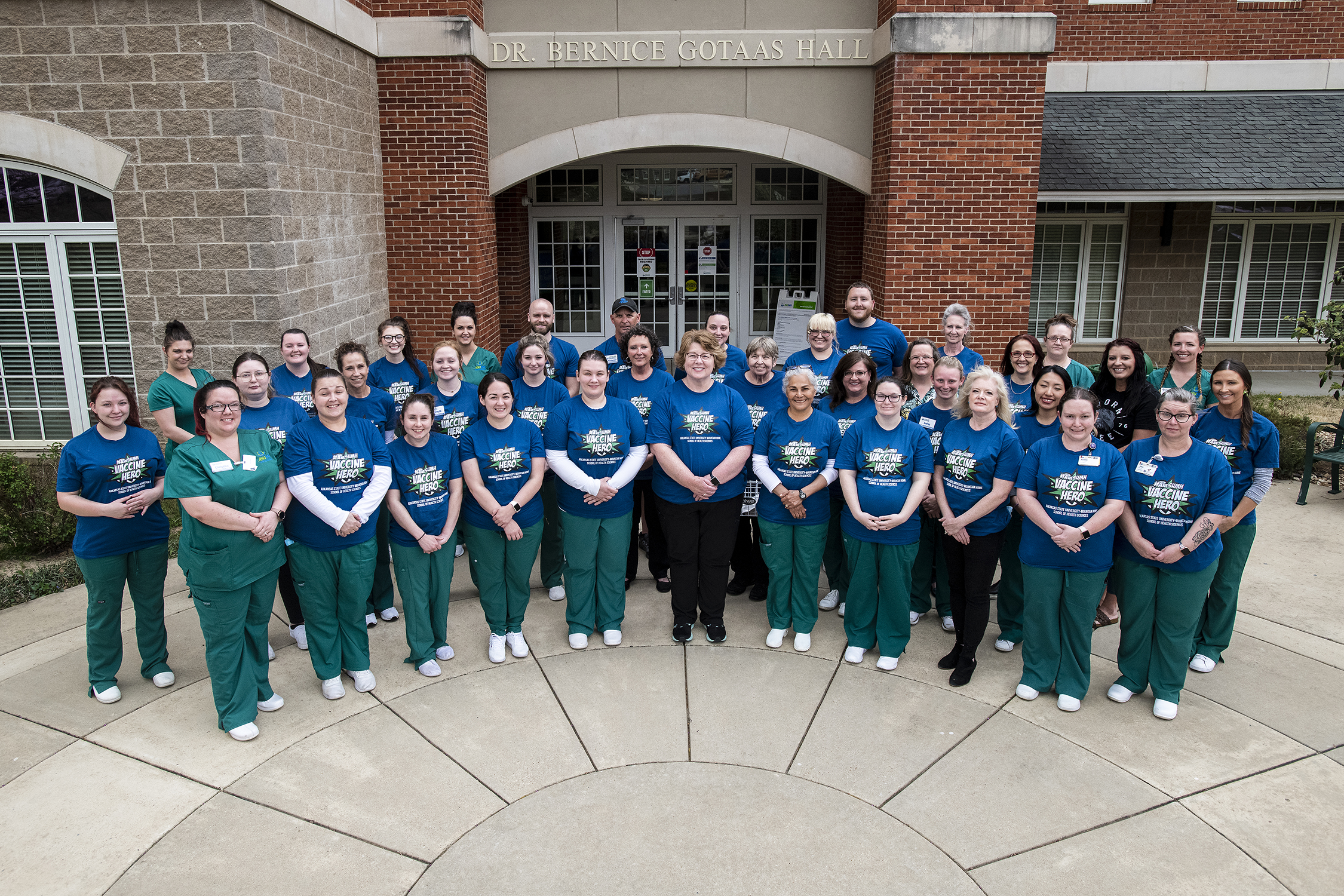 Vaccination Heroes
ASUMH Nursing Students Credited for Covid-19 Vaccine Success
By Deborah Stanuch
In January the long-awaited COVID-19 vaccines were made available in the U.S. and Arkansas with Dr. Julia Gist, Dean, School of Health Sciences at ASU-Mountain Home playing a major role in their distribution locally.
ASUMH participated with local pharmacies at clinics to inoculate health care workers, first responders and educators. These clinics were held at The Vada Sheid Community Development Center on the ASUMH campus.
In early February, Baxter Regional Medical Center began providing Pfizer COVID-19 vaccines to the public at six hospital clinics held at the Baxter County Fairgrounds. Of the total 19,000 shots administered at the clinics, 12,000 were given by LPN and RN students from ASUMH and A-State, according to Johnny Harvey, Occupational Health Coordinator at Baxter Regional Medical Center who coordinated the distribution clinics for the hospital.
"The vaccine clinics wouldn't have happened without the nursing students from ASU-Mountain Home and A-State," said Harvey. "At every clinic, 20 to 30 students were there giving vaccines, screening and registering patients and helping with traffic flow. The students were my favorite part of the clinic," said Harvey. "They provided an energy and welcoming presence and generated so much positive feedback."
Dr. Gist said the curriculum at ASUMH was changed in order to prepare the LPN and RN students to participate in the clinics. "The students all felt they learned so much and saw the value in what they were doing. People were genuinely happy to see the students which made it a very positive experience."
Harvey said he could always depend on Dr. Gist's presence, too. "Julia is too modest to admit this, but she was there every day, for the entire 12 hours, on the front line answering questions and putting patients at ease."
"It took all of us, the hospital, Care Center Ministries, local law enforcement, our students and faculty to do this," said
Dr. Gist. "I've been a nurse for 38 years, and being able to participate in this was one of the best experiences I've ever had.
"I'm very proud of our students and faculty. These are the nurses who will be taking care of us in the future." ■