Software
What is my username or password to install Office 365?

Your username is your student email address, and your password is the same password you use to log into all of your accounts. Your student email address is fullname@u.asumh.edu.
What software is available for download?

All current students have free access to Microsoft Office 365 ProPlus.
Chromebooks are not compatible with the Office download.
What's included with Office 365?
The latest full versions of Word, Excel, PowerPoint, Outlook, OneNote, Publisher, and Access.
How do I download Office 365?

You can download Office 365 by clicking on the Office 365 Quick Link inside the MyCampus portal and then follow the instructions.
How many computers can I install Office 365 on?

Install Office 365 on up to 5 machines (PC or Mac) and up to 5 mobile devices with Office Mobile for Android or Office Mobile for iPhone. Plus, the new Office 365 can be installed side by side with previous versions. If a sixth installation is needed, one of the previous 5 will first have to be deactivated.
What if I buy a new computer?
You can install Office 365 on up to 5 computers for free. If a sixth installation is needed, one of the previous 5 will first have to be deactivated.
Will I need Internet access to use Office 365?
No. Internet access is only needed during the download and installation. After installation, no Internet access is needed to use the Office 365 apps.
Where can I get additional help?
You can contact the IT Help Desk from 8:00 a.m. - 5:00 p.m. Monday - Friday at (870) 508-6223.
Banner Student Self Service
Think of Banner Student Self Service as the dashboard to all of the important things you need as a student (your schedule, your financial aid information, your account summary, and more). Go to Banner Information page and access your Student Self Service by clicking the fist link under the green Important Information heading: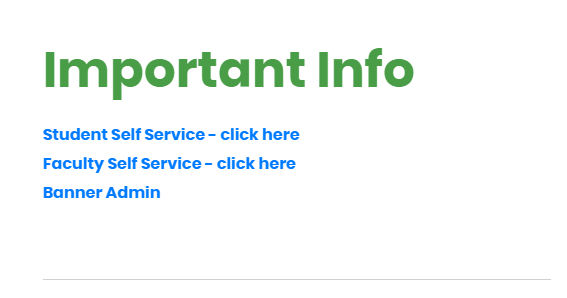 This link will take you directly to the Banner (Ellucian) login where you will use your student email and newly created password to log in:


Download the DUO Mobile app to complete the set-up of our two-factor authentication. You will need this app every time you log into Banner, but you'll only have to set it up during your first login: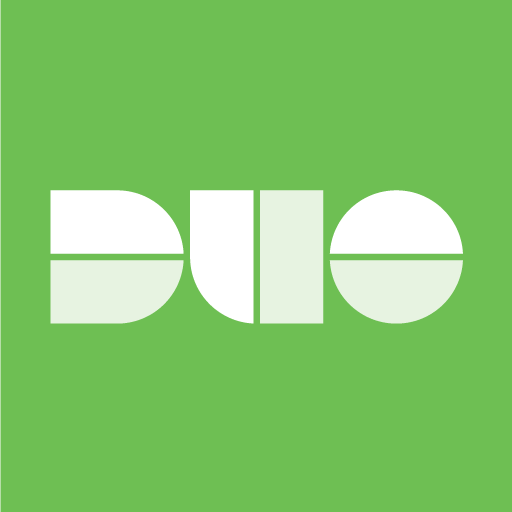 Once you've logged in and made it throug the two-factor authenication (see DUO Mobile in this Orientation for more information), you will be able to access your schedule, see your financial aid, and pay your bill. This can all be done from the home page: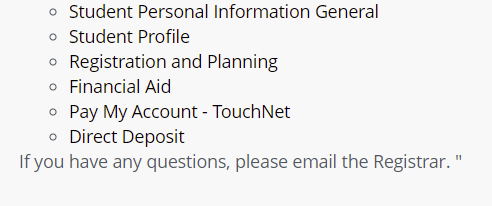 We recommend accessing Banner with an Incogino window and logging out fully every time. If you need any help, our team will be happy to assist you -- simply give us a call at 870-508-6223.
Important Info
We have two help lines dedicated to helping you:
Monday to Friday from 8:00am to 5:00pm
(870) 508-6223
24/7 Blackboard Support
(844) 788-9892
Important Info
We have two help lines dedicated to helping you:
Monday to Friday from 8:00am to 5:00pm
(870) 508-6223
24/7 Blackboard Support
(844) 788-9892
Contact Info
Tamya Stallings
Director of Computer Services
870-508-6166
Integrity First F105
Kim Booth
Project Program Specialist
870-508-6264
Integrity First F104
Shawna Case
Computer Operator/Programmer
870-508-6152
Integrity First F101
Contact Info
Tamya Stallings
Director of Computer Services
870-508-6166
Integrity First F105
Kim Booth
Project Program Specialist
870-508-6264
Integrity First F104
Shawna Case
Computer Operator/Programmer
870-508-6152
Integrity First F101