Stephanie Beaver
Admissions Coordinator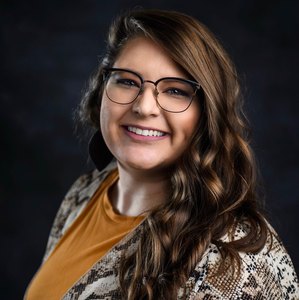 Education:
Bachelor of Arts in Psychology – Arkansas Tech University
Bachelor of Arts in Sociology – Arkansas Tech University
Master of Education in Higher Education – University of Arkansas

Bio:
Stephanie Beaver has been with Arkansas State University-Mountain Home (ASUMH) since 2018 –starting as a part-time Recruiter, before moving to full-time Recruiter, and now Admissions Coordinator. As Admissions Coordinator, it is her job to help students get enrolled at ASU-Mountain Home and to support their success once they are here.

It was at Arkansas Tech University, while working in the Honors College, that Stephanie found her passion for helping students navigate the college world. Throughout undergrad, she got a chance to work in many areas including orientation, student activities, residence life, and Greek life. After graduating with Bachelor's degrees in Psychology and Sociology, Stephanie went to the University of Arkansas to pursue her Master's degree in Higher Education. While there, she worked in Graduate Recruitment and interned in Veteran's Affairs.

After completing her Master's degree, Stephanie moved to Ireland to live and work for a year. At theend of that year, she moved home and she's been with us ever since. As well as working at the college,she is involved in the community as a mentor at Mountain Home High School and a board member for the Schliemann Center for Women's Health.
1600 South College St.
Mountain Home, AR 72653
1600 South College St.
Mountain Home, AR 72653
1600 South College St.
Mountain Home, AR 72653
1600 South College St.
Mountain Home, AR 72653
Alert
Mandatory Password Reset for All ASUMH Users

Passwords were reset for all ASUMH users at 7:25 pm, April 21, 2022. If you reset your password before this time, please reset it again, and then you should be able to access your email and portal information.

If you are unable to login on an ASUMH-issued laptop, use your phone or another computer and go to portal.asumh.edu to reset your password.

If you do not know your ASUMH ID, please call 870-508-6101 to verify that.

If you have any questions, please contact ASUMH IT at helpdesk@asumh.edu or call 870-508-6223. Please leave a voicemail, as they are likely helping other students and faculty. A voicemail will immediately notify the staff that you have issues you are unable to resolve.

Thank you for your patience during this time.

Still have questions?

A password reset server is available for you to change your password 24/7. Please use the following link to reset your password: https://webapps.asumh.edu/changepassword
If you are logged onto a campus computer, you can use CTRL-ALT-delete and then "Change a Password" to set a new password. If you still have trouble with the login, please call the ASU System Help Desk at (870) 701-0523.

Sign Up For Our Email List
Go To Top