Promises Fulfilled: Mountain Home Promise Scholarship inspires, enables students
JULY 15, 2021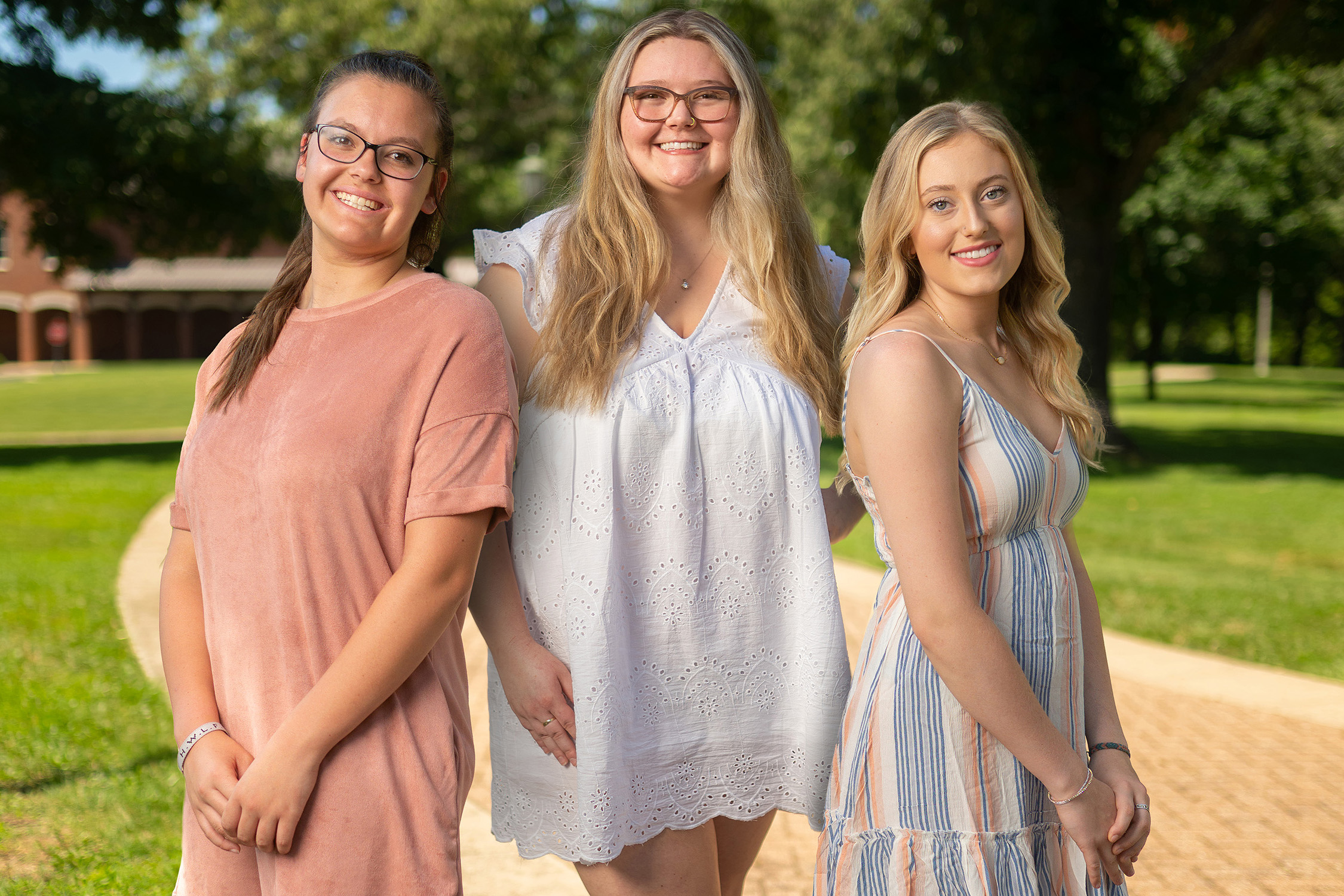 Promises Fulfilled
Mountain Home Promise Scholarship inspires, enables students
By Dwain Hebda
Mollie Morgan knows the power of hope. As a development officer with ASU-Mountain Home, she tells the story daily of the work the university is doing to educate the next generation, as well as supporting adults who are changing the arc of their lives through education.
It's a skill she honed in her previous role as executive director of the Mountain Home Education Foundation for 12 years, during which time she helped create and launch the Mountain Home Promise Scholarship.
"I'm very goal-driven," she said. "You know how, when you're working with a group, you can't find a focus? Well, the Education Foundation needed a focus. As executive director, I was seeing how promise scholarships were impacting other small towns. So, the Promise became a natural place to put our sights on. How can we fully fund students to go on to higher ed?"
Promise scholarships are college funding mechanisms that have been popping up all over the country for years. Usually tied to a company or a community and often managed by a nonprofit, the program guarantees each member of the high school graduating class with funds to help with college costs.
Morgan's progressive-minded foundation board of directors was immediately in favor of the idea, and she began researching other communities' programs. But a year into this effort one factor — money — kept pushing its way to the top of the pile. How could an entity the size of the Mountain Home Education Foundation possibly fund the higher education of, on average, 300 graduates per year and maintain that funding throughout their college experience?
"We'd met for about a year to discuss it, talk to community members who would help support it and we really were hitting a brick wall. Maybe we couldn't afford this," Morgan said. "That's where Dr. Meyers came in."
ASUMH Chancellor Robin Myers came forward with some possible solutions, including a structural element to the program that would help stretch funding.
"I expressed to them that I had been involved with the initiation of a college Promise program at the college where I had previously worked," he said. "I told them about the 'payer of last resort' structure, much like what we ended up with here at the Mountain Home Education Foundation.
"We then worked with the board and provided them with the numbers and a lot of the information that they would need and consulted with them about the actual finances that would be necessary to make a Promise like they have done."
Myers' suggestion was to position the Promise Scholarship as a means of gap funding rather than covering the entire tuition for each graduate. As part of the eligibility requirements, each high school student is required to fill out both the FAFSA and YOUniversal forms, which outline what federal and state education aid they could get. This funding, along with any other scholarships or awards, is utilized first with the Promise Scholarship program then covering whatever is left over.
"It's a smart use of funds," Morgan said. "When I went through and analyzed our data and where our scholarship money was going, it was a slam dunk that we could afford to do this. The board said OK, let's roll with this. Let's try it.
"It was really exciting to stand in front of that first group of students and say, 'You get to go to college, tuition-free.'"
The resulting program, as explained by Jennifer Seaman, who succeeded Morgan as executive director of the foundation, is wonderful in its simplicity. The overriding requirement: Graduate.
"Any student who graduates from Mountain Home High School, including a kid who moved here in 10th grade, has the opportunity to attend ASUMH, tuition-free," she said. "We don't have a GPA requirement at the high school level or an ACT score requirement; as long as you are accepted into ASUMH, you are eligible.
"The Promise program pays for four semesters at ASUMH in a three-year window after graduating high school. And, if a student needs remedial classes in order to prepare for attending ASUMH, the Promise will pay for those classes, too. Our goal is to break the barriers that students often face in getting a college education."
Not all the barriers that the Promise Scholarship tears down are financial. As time has gone on, the idea of attending college among Mountain Home students at all levels has become less of a pipe dream and more of an expectation.
"The thing that I love most about the Promise is the hope that we are able to give and communicate to the students," said
Dr. Jake Long, Mountain Home Public Schools superintendent. "Early on, we are able to basically tell our students that college is not impossible. It is something that is certainly possible. It is something that you can stay right here in Mountain Home and further your education."
Long also said the fact that the scholarship is in part funded by private donations — including by many people who don't have a child in the school system — sends a positive message of encouragement to students.
"I've never seen a community that supports its students and schools the way in which Mountain Home does. They have stepped up and said, 'We're going to offer this to our students,'" he said. "I'm really appreciative of the community partners and the donors and the folks that help us make that happen and instill hope into our kids."
Logan Merriman
Age: 19
Major: Physical Therapy Assistant
Mountain Home High School Class: 2020
Logann Merriman feels good about her just-completed first year at ASU-Mountain Home. She said while some classes were tougher than what she expected, she persevered with focus and determination. One thing she didn't have to worry about was how to pay tuition, as that was covered by the Mountain Home Promise Scholarship.
"It was pretty nice," she said. "The scholarship definitely helped because I can use the rest of my college funds for the third year of school I'll be taking through A-State. The Promise Scholarship really helped; since the first two years' tuition are paid for, I won't have to worry about how I'm going to afford school without draining my whole college fund. This way, I can just focus."
Merriman hopes to give back to the community that helped pay for her education by practicing physical therapy in her hometown once her schooling is completed.
"I would love to work at a clinic in my hometown. I've always dreamed of doing that," she said. "I love all my people here, and my whole family is here. I just want to work in a little clinic in Mountain Home."
As for the scholarship program itself, she said it serves a critical need among the community's youth.
"I think there were quite a few kids that I went to school with that knew (the scholarship) would be the only way that they could go to college," she said. "I think that it really helped because there are a lot of kids in my college classes that I went to high school with who are furthering their education here in Mountain Home. That's because of the Promise Scholarship."
As for the many people and businesses in the community that contribute to the scholarship fund, Merriman offered a big thank you.
"Their donations really do matter, and they really do count because there are certain kids that really can't afford to go to school, and they can now because of community support," she said. "Many donors don't even know us, have never seen us, but we're grateful that they took the time and the effort to create this program and to make donations to support it."
Mackenzie Gee
Age:19
Majoy: Nursing
Mountain Home High School Class: 2020
A slip off the monkey bars isn't generally seen as a positive life event, let alone career inspiration. But that's exactly where Makenzie Gee's love of nursing began.
"When I broke my arm in kindergarten, my mom was an EMT at the time, and she picked me up. I thought it was the coolest thing," Gee said. "When I got to the hospital, there were a bunch of nurses around me. I've always wanted to be an orthopedic nurse because of how they helped me."
Since then, Gee has proven to be a major overachiever. She became a Certified Nursing Assistant (CNA) at 17, and during her junior and senior years at Mountain Home High School, she took concurrent college courses at ASU-Mountain Home, putting her ahead of the typical first-year student. She showed similar determination and grit throughout her first year of college.
"I was going to school during the day, and I worked the night shift at night," she said. "The first semester, I'd get off shift at 6 in the morning and have class at 10 in the morning."
Gee said the Promise Scholarship made even her grueling schedule easier to manage by removing one big financial burden.
"I get these two years tuition-free," she said. "I live by myself, and I pay my own bills. If I didn't get the Promise Scholarship, I'd probably be in debt right now, in debt for the rest of my life." Reaching her goal of becoming an RN will take additional schooling and expense. Gee said she is forever grateful for the opportunity to get off to a fast start tuition-free, thanks to the supporters of the Promise Scholarship.
"It makes me feel great," Gee said. "We are the future, and the donors want to keep the future great by donating, even if they don't have a kid in college or anything.
"I would like to tell them thank you so much for just believing in our generation and providing the donations for us so we can have a college education. Because of this, I can go on to be a nurse and help others. If I stay here, I'll probably work at the hospital, and who knows? I might take care of them in the clinic one day."
Alexis Kincade
Age: 19
Major: K-6 Education
Mountain Home High School Class: 2019
While still in high school, Alexis Kincade had the opportunity to work at Kidspiration Pediatric Therapy Services in Mountain Home and in doing so, caught a glimpse of her future. Now having completed two years of her education, she looks forward to bringing that vision to reality, in part thanks to the Mountain Home Promise Scholarship.
"I worked at Kidspiration when I was 16 years old, and then shortly after that, they started their own autism program," she said. "I even did my senior internship with the ladies at the autism program at Kidspiration, and it just grew from there.
"I want to be a behavior therapist for kids with autism. I'm going to get my master's degree in education, and then I'm going to become a Board-Certified Behavior Analyst (BCBA) when I'm done with school."
Like all MHPS graduates, Kincade qualified for the Promise Scholarship and said the funds helped her conserve her college savings for the advanced degrees required by her desired profession.
"A big reason for staying home (for college) was the Promise Scholarship," she said. "I really wanted to be able to save money for those extra years of college. I've always been around the ASUMH campus — it's beautiful, and I actually knew some of the professors before I decided to come here.
"My classes have been great. I've been lucky to have some really good professors; they really care about you, and if you reach out, they really will do anything for you so that you can succeed."
Kincade said while she always knew she wanted to go to college, many of her classmates didn't have the certainty of outlook. She said the Promise Scholarship almost assuredly helped light a path they might not otherwise have taken. "I definitely know some kids that it was a motivator for them to go to school, even kids that weren't really sure if college was for them," she said. "They got the opportunity to at least try and go see if it was for them. I know it enriched several kids' lives because now they have their associate's degree and are a step ahead of everyone else." ■