Momma Bear: The Unstoppable Nurse Shauna Bolding
JULY 15, 2021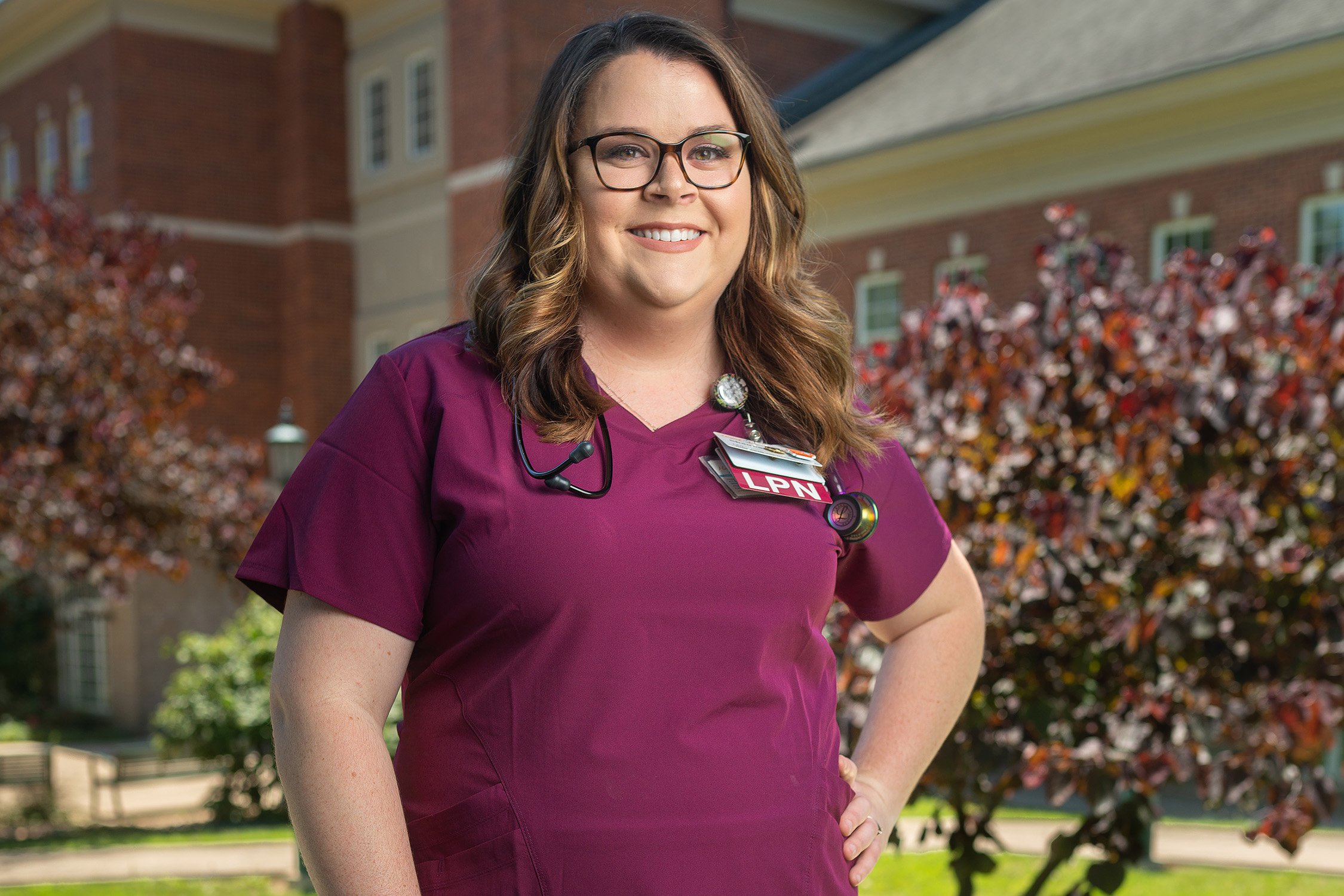 Momma Bear: The Unstoppable Nurse Shauna Bolding
By Dwain Hebda
Shauna Bolding sat in stunned silence, listening to the thoughts running through her head. Her second semester in the nursing program at ASU-Mountain Home had just come to an end with a sickening thud.
A handful of scores, she thought. A lousy handful of test scores.
It had been a long road to get here, starting back when the self-described mediocre high school student with little long-range direction bombed out of college. But nursing was different, and the academic family she'd found at ASU-Mountain Home was different, too. Seated in the office of Dr. Julia Gist, dean of health sciences, she looked into the face of her mentor, nursing faculty member Denise Malloy, creased with disappointment. Bolding felt sick for both of them.
"I remember sitting in Dr. Gist's office," Bolding said. "And I remember just feeling defeated. And Dr. Gist said, 'Why don't you wait a semester? You can start right back off where you were in your second semester, and we'll start over again.'"
Most people probably would have taken that advice, given how nurses' training is about as physically and mentally draining as you can get. Bolding probably should've taken the out, truthfully, to get her head together, figure some things out. But something wouldn't let her.
"I was like, no. I think I'm just going to take this week off and just go for it," she said. "I know it sounds crazy, but I think I'm going to go ahead and do it all over again."
Shauna Bolding is a sunshine girl, born in California, raised primarily in Florida. She's also a child of the storm, blown to Arkansas on the heels of a hurricane at age 17 where she graduated Flippin High School with little desire to see the inside of any more classrooms.
"I was not a kid that was really great at school. I did not pay attention in high school whatsoever," she said. "When I got out of high school, I went straight to college because my mom wanted me to. And I flunked a year and a half later."
It would be nine years before Bolding would change course. In that time, her personal life flourished with a loving husband and two beautiful kids. But her work life left much to be desired. Finally, she owned the fact that serving a purpose didn't come without cost, and she enrolled at ASUMH in 2018.
"Once I went back, I was completely dedicated. By then, I knew how hard it was to make money and to only have a high school diploma," she said. "But (college) was hard because I didn't remember anything from high school. I had to be remediated, and there were a lot of classes I didn't make it through and had to do over again. I didn't learn long division until I went through Foundations of Math in college summer school. It was a long, hard journey, but that just made it worth it."
Bolding chose nursing because while working as a pharmacy assistant, she developed an interest in the health care field. And, there was something else.
"I had never actually thought about going into nursing before," she said. "But I've always been kind of a Mamma Bear, and I thought maybe nursing was a way I could take care of people."
To her amazement, the first semester was no match for the force of her newfound commitment.
"I had the motivation. I had the drive. I wanted to do better," she said. "I started making A's right off the bat; I'd never made an A in my life, other than in art class."
The top marks didn't continue unabated, ("Somebody told me, 'C's get degrees,'" she laughed.) but Bolding held her own. That is, until second semester when she started to hit a wall where she could process information but struggled to transfer it from brain to page. Test scores began to stagger, and the margin between passing and failing steadily narrowed, until the end of the term found her on the outside looking in.
"I really think my brain had just got so full, I was over-studying and overdoing it," she said. "I knew the material, but I couldn't put it on paper. I could say it, but I couldn't get it right on a test. And it drove everybody nuts."
Bolding had reached a crossroads, but she wasn't there alone. Her professor and mentor Denise Malloy, saw a lot of herself in Bolding and knew just what her student was going through.
"I failed pediatrics in the second semester; my head was not in the game, and that led to my demise," Malloy said. "After about a year, I had a better idea of what it was going to take to be successful. I gave it everything I had and did great, and upon graduation, I worked in a pediatric intensive care unit for 20 years before becoming a teacher."
"When an incoming LPN class begins, I always share my own personal journey through nursing school and how failure was not the end of my dream. I just needed to make some adjustments and come back stronger."
"Professor Malloy was an absolute godsend," Bolding said. "She treats you like you were an extension of her and is just such a mother figure. It is in her DNA to push good nurses out into the world.
So, it was at the lowest point in her educational life that Bolding found new steel for her resolve. There would be no quitting, no layoff, not even a pause. It was time to get back to work.
Coming back immediately meant switching cohorts from Malloy to faculty member Lucy Hahn, who had a completely different teaching style. Initially a concern, Bolding said the change-up was precisely what she needed.
"Malloy gave me the whole picture; you learn how to be an LPN and an RN at the same time," Bolding said. "With Hahn, it was like a closer snapshot of the picture. She gave you what you needed as an LPN right then. I needed that in detail."
Buoyed by this new approach, Bolding crushed her do-over semester, graduating a Licensed Practical Nurse in July 2020. No one stood taller or cheered louder that day than her professors, especially Malloy.
"What happened to Shauna was so sad, because she wanted the whole class to be promoted and then she was the one left behind. It was very hard on the class when she didn't move forward," she said. "She was one of the most organized people in the class. In fact, I remember she created a way for the other students to be organized with color-coded calendars. She presented that to the whole class. She just wanted everybody to succeed so much.
"But Shauna hasn't changed one bit. She came in very gregarious, very happy all the time and she still is. She loved having this challenge."
Bolding's degree from ASU Mountain Home is just the first step on her journey to RN and beyond. And while that goal is more sharply focused than ever, the universe is still revealing some surprises of self-discovery regarding her chosen profession.
"I had my heart set on working in a clinic and keep going to school," she said. "My area has always been trauma or intensive care; I've always thought that was absolutely what I wanted to go for."
But when no jobs in these specialties presented themselves, Bolding found herself interviewing with Hospice of the Ozarks, a branch of Baxter Regional Medical Center. She took the gig with great reluctance, having felt ill at ease during clinicals there. But that didn't last long, to her amazement.
"I'm pretty blunt, and I think honesty right upfront is the best way to go," she said. "During my interview, I told them my grandmother passed here, and I don't know how to deal with death, because I've never really seen it. But I also remember praying, God, if this is where you want me, then I know this is where you need me.
"Turns out, I love hospice. They're the most compassionate people I have ever met in my whole entire life. When you get to be in a room with people who have just lost their loved one, it is the biggest honor to comfort them and give them the love they need. I will never regret doing hospice."
With everything Bolding has experienced in her vocation thus far, and with a long way to go, the most important lessons she's learned have been of the big-picture variety.
"I think it's okay to fail now. It's okay to fix your tiara along the way because it's going to get knocked down," she said. "I remember reading something right after I didn't make it the first time around, and it was an acronym for 'fail': First Attempt In Learning. I remember thinking that's so powerful because you're not always going to get it right the first time around. The only thing you're going to fail at is if you don't keep going.
"I still have a long way to go to be the nurse I want to be and the mom I want to be and the wife I want to be. But it's okay to stumble. Stumbling is just one more steppingstone that you just walk over to keep going down that path to find yourself and be the person you want to be." ■