Ed Coulter Student Emergency Fund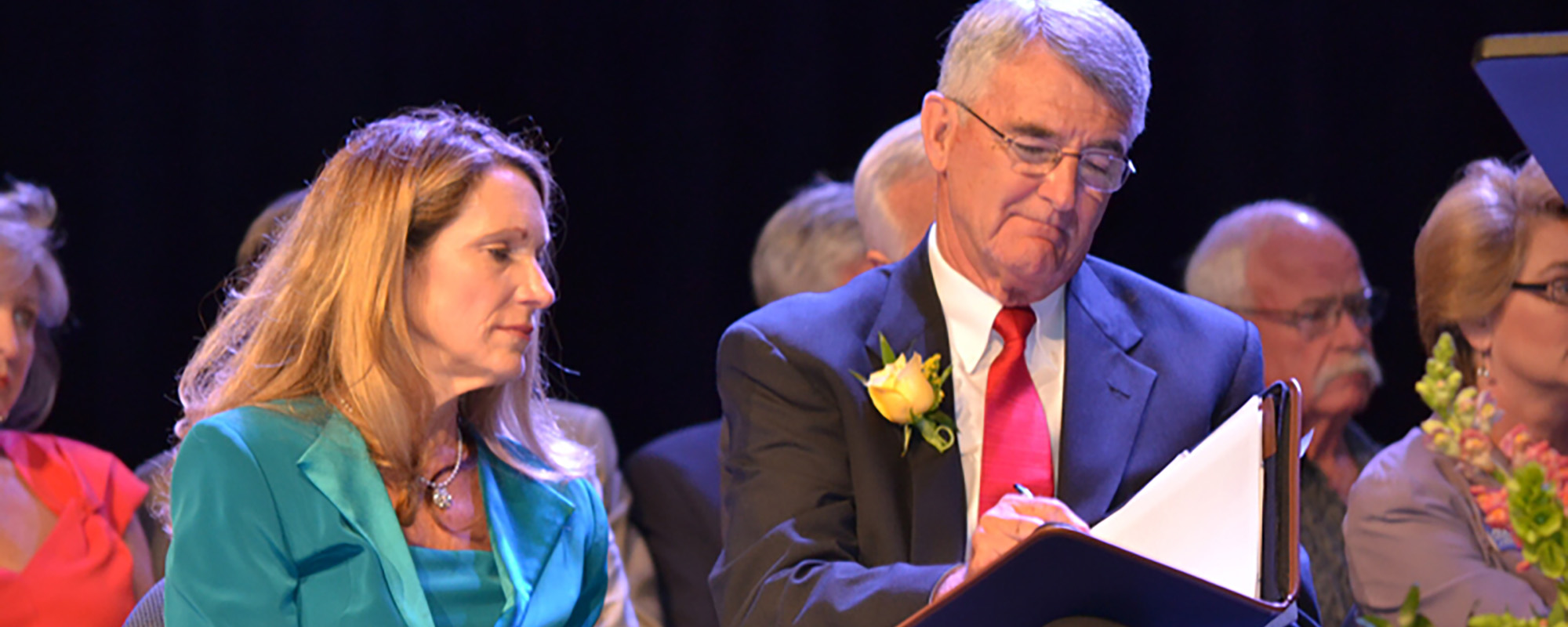 Ed Coulter Student Emergency Fund
Dr. Ed Coulter, former chancellor of ASUMH for 17 years, has a heart of giving in everything he does. His generosity spans from being on the American Cancer Society board of directors, on the board of the Baptist Medical Center system, and being a grandfather to 13 children. There have been over 12,925 students that have attended our University during his tenure and, due to his leadership, it is sure that each has had their lives changed in some way. The Faculty and Staff wanted to honor his legacy by creating The Ed Coulter Student Emergency Fund, due to his dedicated service to our campus, and so his name can continue to directly impact the lives of students. The ASU-Mountain Home Ed Coulter Student Emergency Fund is being established to provide one-time financial assistance grants to students who find themselves in situations of economic need which would interfere with the completion of the semester. Often the ability to overcome an unexpected monetary crisis can make the difference between staying in school or dropping out in order to handle the financial crisis. We know students who drop out, even when the intent is temporary, are less likely to complete their degree than those students who overcome a financial crisis and continue their education. Not all students have resources to get through a temporary financial crisis. This fund will be available to students without resources to help them stay on track in pursuit of their educational goals.
If you are a current student and need assistance, please fill out this application form. If you would like to help students to achieve their dreams, tax-deductible donations can be made to:
Arkansas State University - Mountain Home Foundation
1600 South College Street
Mountain Home, AR 72653
Make check payable to "ASUMH Foundation," write in "Ed Coulter Student Emergency Fund" on the FOR line, and print out this donation form to accompany your mailed donation. Acknowledgement cards are available for those who make donations in the name of another individual. For more information please contact a member of our service team (see contact information). The Ed Coulter Student Emergency Fund history and official guidelines can be found in this document.
Contact Info
Michael Thomas

Faculty Co-Chair of ASUMH Service Team
Phone: 870-508-6153 ext. 153
Email: mthomas@asumh.edu
Sara Anderson
Student Support Specialist
Phone: 870-508-6136 ext. 136
Email: sanderson@asumh.edu
Office: Roller Hall R315
Tina Bradley
Director of Library Services
Phone: 870-508-6130 ext. 130
Email: tbradley@asumh.edu
Office: Roller Hall R104
Contact Info
Michael Thomas

Faculty Co-Chair of ASUMH Service Team
Phone: 870-508-6153 ext. 153
Email: mthomas@asumh.edu
Sara Anderson
Student Support Specialist
Phone: 870-508-6136 ext. 136
Email: sanderson@asumh.edu
Office: Roller Hall R315
Tina Bradley
Director of Library Services
Phone: 870-508-6130 ext. 130
Email: tbradley@asumh.edu
Office: Roller Hall R104