School of Business & Technology
Funeral Directing

About This Program
The Funeral Directing technical certificate program is designed to allow students the option to serve as funeral directors without the embalming portion of the curriculum. The courses in the Technical Certificate will also meet the prerequisites for the Associate of Applied Science in Funeral Science. The American Board of Funeral Service Education (ABFSE) does not accredit this certificate since it does not include embalming. Therefore, students completing this certificate will not be eligible to sit for the National Board Exam or any other state board exam. However, students may be employed by funeral homes as funeral directors. According to the ABFSE, "This academic program is designed to meet specific state or professional needs. It is not accredited by the American Board of Funeral Service Education. Students graduating from this program are not eligible to take the National Board Examination or any state board examination for which graduation from an ABFSE accredited program is required." This language applies to the Technical Certificate only.
Through the use of compressed video, this program can be attended on the campuses of:
NWACC in Bentonville
Arkansas Tech University - Ozark Campus
ASU - Mountain Home
ASU - Jonesboro
ASU - Beebe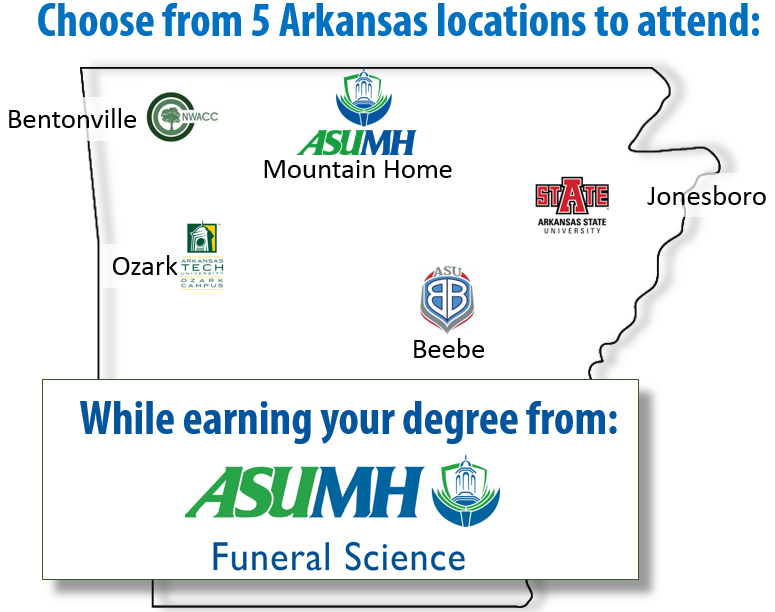 LINKS:
Classes in the core of the funeral science program are held only on Tuesdays and Thursdays in order to help students maintain lives and jobs while attending school. Commuting is also reduced by making it possible for students to attend these classes at any of the five sites shown above. Instructors are usually teaching from the Mountain Home campus and the classes are connected to the other sites via compressed video. In other words, by using microphones, cameras and video displays, students at any campus can interact with the instructor and other students at any time during class. Instructors also travel to the other sites and teach from there several times each semester. By using this technology and timing, most students in the northern 2/3 of Arkansas and Southern 1/3 of Missouri find it entirely feasible to get their funeral science education from ASUMH. This is especially evident in the employment figures below.
FUNERAL SCIENCE - A COMPASSIONATE CAREER CHOICELIFE AFTER GRADUATION WITH A FUNERAL SCIENCE DEGREE
$98
Tuition Per Credit Hour
2 Semesters
Program Duration
Classes You'll Take
Management and Merchandising
Psychology and Counseling
DEGREE CHECKLIST
Related Degree Options
Transferable Degrees & Stackable Credentials
Transferrable degrees are programs of study that allow students to complete general education courses. Many students who intend to transfer to another college/university complete these degree programs.
Stackable Credentials are Technical Certificates that might be "stacked" to meet requirements for a higher-level certificate or degree program like an associate's degree.